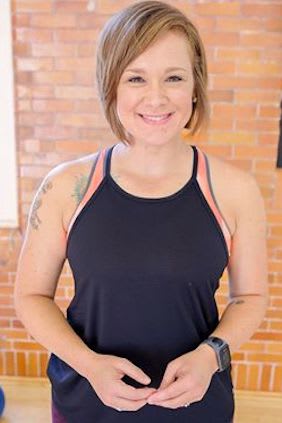 Robin Kennedy
Background: I was born and raised in Franklin County. I left for six years while I served in the Air Force, but the pull of the valley was too strong! I love group fitness classes. I feed off everyone's energy, and I love how our FergFit crew encourages each other during workouts. When we aren't working out, you can find us at home with the our dogs, spending time with family, or traveling to an OCR race.
Education: Master's in Healthcare Administration. BS in Healthcare Management.
Family: I go home every day to my wife, Crystal, and my two rowdy pups, Derby and Stanley.
What I teach: CORE DE FORCE Live
Show or movie that makes you LOL: The Office (US version). We're the Millers. Pump Up Song:
Anything by Eminem, Jay-Z, or NF.
Favorite Healthy Meal: baked chicken with roasted Brussels sprouts and sweet potato.
Who/what you are really passionate about when it comes to health and fitness: I am most passionate about fostering a community that is supportive and encouraging for people of all walks of life and fitness levels. I feel fortunate to have found that at Ferguson Fitness!