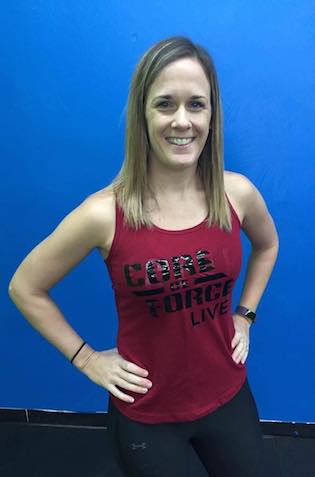 Sarah Henshaw
Background: I grew up in Louisa County, went to college at Radford University and graduated with a Bachelors in Science, nursing degree. Since then I have been living in Roanoke working as a ICU Registered Nurse. I have always had a passion for exercise! I played soccer, volleyball and ran track and cross country in high school. I have continued to be active as an adult as I have run many road races including 5Ks and half marathons. I have a passion for OCR races! In 2017 I earned my first double trifecta for spartan races.
Education: Radford University 2006
Family: Married, I have 2 spartan loving kids, Hayden and Riley! I have 2 cats, and Dog which is smaller than my cats but thinks she is a 100lb dog when really she is 4 lbs!
What I Teach: CORE DE FORCE Live
Show or movie that makes you LOL: I love Mean Girls if I want a good laugh
Pump Up Song: Bon Jovi - Living on a Prayer
Favorite Healthy Meal: Easy go to, chicken, rice and broccoli or a good spinach salad with fruit in it!
Who/what you are really passionate about when it comes to health and fitness: My passion is my patients that I see and work with. I work in a cardiac ICU and I see what lack of exercise and not eating healthy can lead too. Also my kids! I want them to live happy healthy lives. I want them to grow up see that exercise and eating right is not a punishment, it a healthy way of living and our bodies need it!